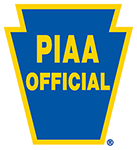 Become an Official
There are many benefits to becoming an official for interscholastic athletics. You are making a difference in the lives of students everywhere, encouraging exercise through competition, and establishing life long fundamentals of fairness. The job is not for the faint of heart. It challenges you athletically, requires cool and decisive thinking, and means "sticking to your guns", but the rewards are great. Application fees are valid for one (1) year and one (1) sport may be chosen for one registration fee.
**Must be 16 years old or older.**
JUNIOR OFFICIAL PROGRAM
Information on the Junior Officials Program can be found by clicking here. For more information, and to register, contact Kim Hill at khill@piaa.org or 717-697-0374 ext. *103.
HOW do I become an official?
Pick a method below. Once registered, PIAA will send you a current NFHS rule book and practice test in the sport(s) you choose via the US Postal Service.
PLEASE NOTE: Shipping time with the USPS is longer than normal at this time. It can take anywhere from a few days to a few weeks to receive your material. Please be patient.
Read up on some Frequently Asked Questions
There are a few things you may need to know about officiating sports in Pennsylvania. This guide will fill you in on the details.


Fill out the downloadable Application Form
Download the application form and print it out. Fill in the blanks to tell us a bit about yourself. This requires the Adobe Acrobat Viewer.


Mail us your application with a $40.00 check
Mail the application with a $40.00 non-refundable application fee to:
PIAA
550 Gettysburg Road
P.O. Box 2008
Mechanicsburg, PA 17055-0708


Read up on Rules of Competition
Before you take the test, you may want to freshen up on the sports you wish to officiate.


Pass the PIAA Officials' Examination in person or take an exam online, anytime.
We test your knowledge to make sure you know the rules! Be sure to click above to get a list of tests around the state that you can attend.
Download Application Form